Summary:

I am an Anthropologist and
Assistant Professor of Critical Studies
at
California College of the Arts
. I study how people use media to express technical identities, share aspects of the self, and accomplish civic engagement.

I also served as the Inaugural Editor-in-Chief (2012-2014) of
The CASTAC Blog
, which is the official blog of the Committee on the Anthropology of Science, Technology, and Computing, a subdivision of the American Anthropological Association.


Contact Information:

Email: plange@cca.edu


Twitter:
pglange
Mailing Address:

California College of the Arts
1111 Eighth Street
San Francisco, CA 94107-2247


New Book!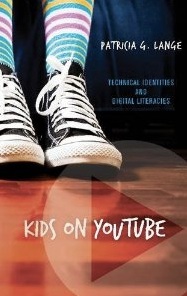 Research Interests:

Anthropological, visual, and linguistic studies of digital media; technical identity; online competencies; emotions; place; pragmatics; marginal words; anthropology of art; interactional reciprocity

Current Research Project:

Video rants as civic engagement


Past Research Projects:

YouTube
Video Bloggers
Digital Youth and Informal Learning
Online Text Gaming (MUDs, MUSHes)
Computer use in Celebration, Florida
Virtual Reality equipment study at CyberMind Entertainment Facility, San Francisco


Video Blogs:

AnthroVlog
AnthroVlog on YouTube
Education

Ph.D. Anthropology
M.A. Anthropology

University of Michigan


A.M. International Policy Studies
A.B. History

Stanford University
October 22, 2014 - New Paper!
"Commenting on YouTube Rants: Perceptions of Inappropriateness or Civic Engagement?"
Journal of Pragmatics
, 73: 53-65. An online version is available
here
until December 11, 2014.

April 20, 2014

My film,
Hey Watch This! Sharing the Self Through Media
, was internationally debuted at Ethnografilm! This is an exciting new international film festival that showcases ethnographic and academic films that visually depict social worlds.
See the trailer on
YouTube
or
Vimeo!


March 17, 2014

Henry Jenkins has published an interview with me on his blog. I discuss my new book,
Kids on YouTube: Technical Identities and Digital Literacies.
For more information see:


Part I: Categorizing digital media
Part II: Exploring what kids learn
Part III: Discussing risk and self-promotion
Part IV: Analyzing being self taught


December 5, 2014

At AAA's this year, I will be presenting my paper "Searching for Intelligent Life in the Vlogosphere: Lessons from an Ethnographic Film on Sharing the Self Through Media." See you in D.C.!


October 9, 2014

I presented at talk, "Evaluating Techno-Aesthetics in Video: Demystifying the Aesthetic Gap Between Amateurs and Professionals," LASER series, Stanford University. See
this link for a video
of my talk.


June 21, 2014

Invited panelist for the panel "Self(ies) and Surveillance: Performing, Displaying, and Documenting Bodies," presented at the symposium,
Face It: Photography, Ethics, and Identity in the Age of the Selfie,
which was
held at the San Francisco Art Institute. A video of my remarks is available
here
.


October 24, 2013

I will be presenting my paper,
"Emotional Expressions of the
Studium
and
Punctum
on YouTube Infant Memorials"
at the Association of Internet Researchers Conference in Denver.


October 12, 2013

I'm excited to be screening my ethnographic film,
Hey Watch This: Sharing the Self Through Media
at the Society for the Social Studies of Science in San Diego!


May 14-June 8, 2012

My paper was selected for the
Virtual Conference
at the International Communication Association meeting. Can't come to Phoenix? Check out the online conference papers, including mine entitled,
"Rhetoricizing Visual Literacies."
This paper received a "Top 6 Paper" award from the Language and Social Interaction Division of ICA.

Recent Publications (Selected)
Kids on YouTube: Technical Identities and Digital Literacies.
Walnut Creek, CA:
Left Coast Press,
2014.

"Learning Real Life Lessons from Online Games,"
Games and Culture
, 6(1), 2011. An online version is available
here
.
"Achieving Creative Integrity on YouTube: Reciprocities and Tensions,"
Enculturation
8, September 2010.
"Creative Production," Lange, Patricia G. and Mizuko Ito, in
Hanging Out, Messing Around, Geeking Out: Living and Learning with New Media
(Ito et al.). Cambridge: MIT Press, 2010.

"Videos of Affinity on YouTube," in
The YouTube Reader,
Patrick Vonderau and Pelle Snickars, Eds. Pp. 228-247. Swedish National Library Press, Distributed by Wallflower Press, 2009.


Living and Learning with New Media: Summary of Findings from the Digital Youth Project
,
Mizuko Ito, Heather Horst, Matteo Bittanti, danah boyd, Becky Herr-Stephenson, Patricia G. Lange, C.J. Pascoe, and Laura Robinson. Cambridge: MIT Press, 2009.


"Conversational Morality and Information Circulation: How Tacit Notions about Good and Evil Influence Knowledge Exchange" Human Organization, 68(2): 218-229, Summer 2009.
Full text is available here.


"(Mis)Conceptions about YouTube,"
Video Vortex Reader: Responses to YouTube,
Geert Lovink and Sabine Niederer, Eds. Pp. 87-100. Amsterdam: Institute of Network Cultures, 2008


"Publicly Private and Privately Public: Social Networking on YouTube,"
Journal of Computer-Mediated Communication
, 13(1), 2007.